Trusted partners for over 40 years.
Those who expect the best choose ExponentHR. We deliver human capital management solutions you can count on. Growing a business demands HR competence. That's what we offer. With every customer every day, we exemplify the highest standard in HR.
Today, HR leaders deal with complex, siloed solutions, cut off from the rest of their systems and their teams. To do great things, these heroes need a simple, robust platform to connect with their work — and each other. When heroes band together, they create a team. When teams of heroes band together, they form a movement. ExponentHR amplifies the power of individuals to build teams with lasting impact.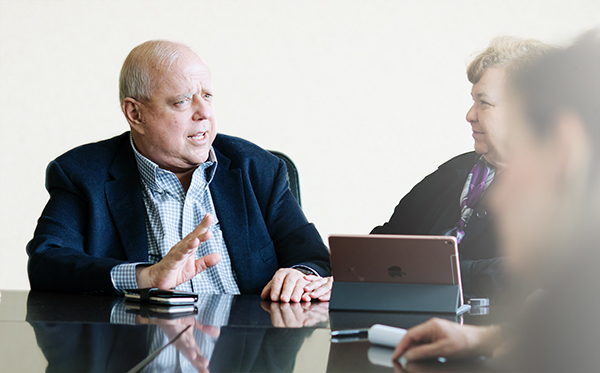 Our History
Larry Lacerte founded Lacerte Software Corporation in 1978 to meet the challenges facing accounting professionals. His development of Lacerte Tax Software ignited a paradigm shift in technology at a time when terms like "desktop computer" and "online" were unknown. Over a 20-year period, Larry established Lacerte Tax Software as the leading company in its industry in terms of both market share and service.
After selling Lacerte Software Corporation to Intuit in 1998, Larry founded what has become ExponentHR to be a disruptor to the Human Capital Management industry. Today we continue to embrace the approach to technological innovation and superior service that have propelled the success of both ExponentHR and our clients.
And we're just getting started.
Our Values
It's in our name — "exponent" means to champion or exemplify. We will live up to our name, exemplifying the highest standard in HR, by staying close to these values.
Reliable
We get the job done. It's what we're known for throughout the industry, which is why we've successfully run a word-of-mouth business for decades.
Relationship-focused
We build relationships with everyone we meet, and every relationship we have is built on trust. Our relational, family-run business thrives on good community.
Diligent
We are careful people, focusing on getting the job done how it needs to be done. We take great pride in attention to detail and keeping a watchful eye on our work.
Genuine
We aren't hiding anything. What you see is what you get, and we're always going to be straightforward, giving you the best we can.
Exemplifying the highest standard in HR
We are changing the HR technology industry by staying true to ourselves, our customers, and our values.
Our Office
4970 Landmark Place, Dallas, TX 75254
(214) 987-4567